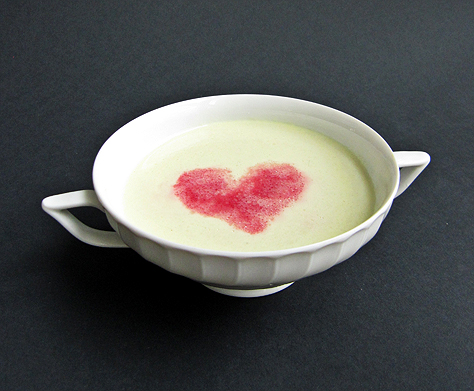 This heart-warming cauliflower coconut soup has a mild flavour and is an ideal starter for a Valentine's Day menu. Click here for more Valentine's Day recipes.
Heart-warming Cauliflower Coconut Soup (serves 2)

1 small onion
1 Tbs butter
200g cauliflower (about 4 florets)
a pinch of sugar
1/3 cup white wine
1 cup chicken or vegetable stock
2/3 cup coconut milk
salt & pepper
1 tsp canola oil and 1 tsp red beet juice for the heart
Chop onion into small cubes and sauté in the butter for about 5 min. on medium heat.
Cut the cauliflower into small bits and add it to the onions. Add the sugar and stir-fry for a few minutes.
Add the white wine and let it boil down.
Add the stock and boil for about ten minutes until the cauliflower bits are tender.
Add coconut milk, salt and pepper an briefly heat it up.
Blend and sift the soup.
For the red heart, mix canola oil with beet juice and carefully place one teaspoon per bowl on top of the soup surface. Shape the dot into a heart with the help of a toothpick.