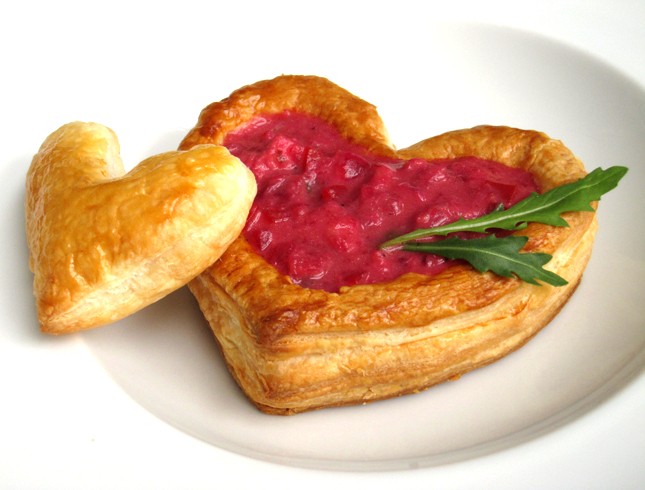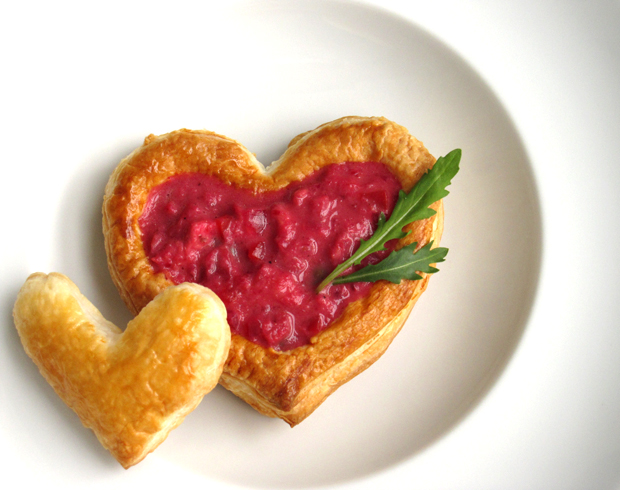 A crunchy heart-shaped puff pastry shell filled with a savoury chicken & beet stew that catches your eye through its vibrant colour – Your loved ones' heart will surely skip a beet when you serve them this flashy main dish on Valentine's Day. Click here for more Valentine's Day recipes.
Cooking Soundtrack: Dan Le Sac vs. Scroobius Pip – The Beat That My Heart Skipped
Heart-shaped vols-au-vent (makes 4 hearts)
chilled puff pastry dough, ca. 30×40cm rectangle, 3mm thick (I used store-bought puff pastry, but if you are truly in love I suggest making it by yourself)
1 egg, beaten
Preheat oven to 200°C. Print and cut out this heart outline if you don't have suitable cookie cutters.
Lay the heart outline on the dough and cut along the template. You'll need 4 big hearts for the bottom, 8 heart rings for the sides and 4 small hearts for the caps.
Put the bottom hearts on a baking tray lined out with parchment. Prick them with a fork and brush with the beaten egg.
Place one heart ring on the bottom heart, brush with egg, then place another ring on top and brush again with egg. Brush the heart caps as well.
Bake the vols-au-vent for 15 minutes. The heart caps should be taken out 5 minutes earlier.
Chicken & Beet Stew (serves 4)
Note: One portion is more than what is depicted in the pictures.
1 garlic clove
1 small onion
1/2 carrot
1 chicken breast
salt & pepper
1Tbs flour
2 Tbs white wine
1 cup chicken stock
1/3 cups frozen sweet peas
1/3-2/3 cup cream
a pinch of tarragon
1 tsp cornstarch dissolved in water
1 tsp lemon juice
3 Tbs grated beet
Chop garlic, onion and carrot into small bits.
Cut the chicken into small cubes. Mix with salt, pepper and flour.
Heat the butter in a pan and sauté garlic, onion and carrot for one minute.
Add chicken and cook until it's done.
Add wine and let it evaporate a bit.
Pour in the chicken stock and the sweet peas and let it simmer for a while.
Add cream,tarragon and cornstarch.
At the very last, mix in the grated beets and the lemon juice. What a colour boost.
Fill the stew into the vols-au-vent. Enjoy.