Archive for the 'Main Dish' Category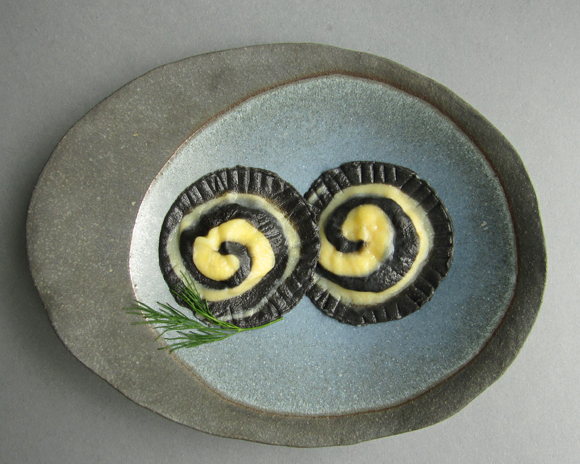 Homemade squid ink spiral ravioli with fish filling! The swirl pattern is an eye-catcher. This could be a neat main dish for a black and white party menu. Don't worry, you can make the pasta without any machine.
You've surely seen spiral cookies before – they are easy to make and look nice. If you can make a spiral pattern with cookie dough, why not try it with pasta dough I thought.  It's just as easy as making the cookie version. The main difference is that the slices should be thinner and you have to make sure that the different dough parts stick well together before cooking.
With the method I show here, you could apply all sorts of cross-section patterns to pasta. An open field for your creativity! Next on my to-do list are checkered pasta and panda pasta :-D
I chose white fish filling for the ravioli because it has a neutral colour that isn't noticeable through the pasta dough and the flavour goes well with squid ink (recipes is at the bottom).
Homemade Spiral Ravioli Recipe (makes 10-12 pieces)
Cooking Soundtrack: Jan Garbarek with Keitgh Jarrett – Spiral Dance
Spiral Squid Ink Pasta
60g (ca. 4 Tbs) all-purpose flour
60g (ca. 4 Tbs) semolina (durum wheat flour). For those who live in the German area: Kauft einfach Spätzli- bzw. Spätzlemehl, das besteht ganz oder zum Teil aus Hartweizendunst.
1 egg, beaten
2 tsp olive oil
4 tsp water
1/2 – 1 tsp squid ink
Mix half the amount of all the ingredients except the squid ink together in bowl with a spatula. Remove from bowl and knead until you get a smooth and soft dough.
Do the same with the other half of the ingredients including the squid ink. Wrap the doughs separately in plastic foil and let them rest for an hour at room temperature.
Place the the doughs one after another between 2 sheets of plastic foil and roll out evenly to a thickness of 5mm. Why plastic wrap and not a floured surface you might ask. Well, we want to preserve the moisture. Stickiness is good in this case!
Brush the surface of one of the doughs generously with water. Place the other dough on top and roll out again until you reach a thickness of 5mm. Wrap and refrigerate for about 30 minutes.
Flatten the 2 short edges.
Brush  a small part of the surface that lies ahead with water and roll by pulling the plastic foil. Use the blunt side of a knife to make the roll firm (like shown in the picture). Repeat this steps  until you reach the end. Smear the edges with your fingers.
Wrap it in plastic foil (looks like a salami!) and put it in the freezer for 30 minutes.
Now the most thrilling step: Slice the dough and do a victory dance if the spirals turned out well.
Roll the slices out thinly on a floured surface.
Put 1 tsp of ravioli filling in the middle of a slice. Damp the brim, place another slice on top and press on the brim with a fork.
Simmer in salted water for 5 minutes.
Serve with butter and dill. Yeah.
Pikeperch Fish Filling for Ravioli from Pauli – Rezeptbuch der Küche
120g pikeperch filet, cut into small cubes
100g cream, 35%
12g pasteurised egg white (I left that one out)
fresh dill
salt, pepper
Blend fish, salt, egg white and half of the cream together in a mixer.
Transfer the mixture to a chromium steel bowl and stack on top of another bowl filled with ice water. Stir.
Sieve the mixture and cool again.
Lightly whip the rest of the cream and add it together with dill, salt and pepper to the mixture.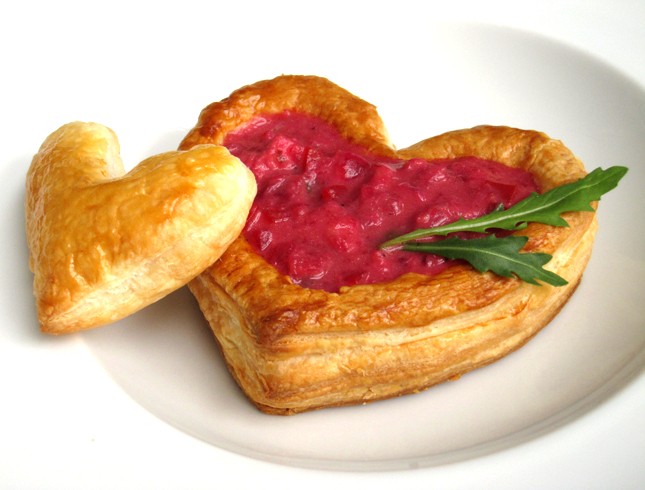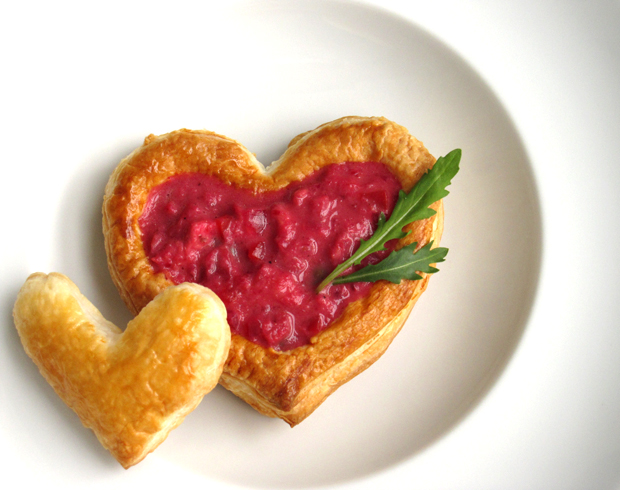 A crunchy heart-shaped puff pastry shell filled with a savoury chicken & beet stew that catches your eye through its vibrant colour – Your loved ones' heart will surely skip a beet when you serve them this flashy main dish on Valentine's Day. Click here for more Valentine's Day recipes.
Cooking Soundtrack: Dan Le Sac vs. Scroobius Pip – The Beat That My Heart Skipped
Heart-shaped vols-au-vent (makes 4 hearts)
chilled puff pastry dough, ca. 30×40cm rectangle, 3mm thick (I used store-bought puff pastry, but if you are truly in love I suggest making it by yourself)
1 egg, beaten
Preheat oven to 200°C. Print and cut out this heart outline if you don't have suitable cookie cutters.
Lay the heart outline on the dough and cut along the template. You'll need 4 big hearts for the bottom, 8 heart rings for the sides and 4 small hearts for the caps.
Put the bottom hearts on a baking tray lined out with parchment. Prick them with a fork and brush with the beaten egg.
Place one heart ring on the bottom heart, brush with egg, then place another ring on top and brush again with egg. Brush the heart caps as well.
Bake the vols-au-vent for 15 minutes. The heart caps should be taken out 5 minutes earlier.
Chicken & Beet Stew (serves 4)
Note: One portion is more than what is depicted in the pictures.
1 garlic clove
1 small onion
1/2 carrot
1 chicken breast
salt & pepper
1Tbs flour
2 Tbs white wine
1 cup chicken stock
1/3 cups frozen sweet peas
1/3-2/3 cup cream
a pinch of tarragon
1 tsp cornstarch dissolved in water
1 tsp lemon juice
3 Tbs grated beet
Chop garlic, onion and carrot into small bits.
Cut the chicken into small cubes. Mix with salt, pepper and flour.
Heat the butter in a pan and sauté garlic, onion and carrot for one minute.
Add chicken and cook until it's done.
Add wine and let it evaporate a bit.
Pour in the chicken stock and the sweet peas and let it simmer for a while.
Add cream,tarragon and cornstarch.
At the very last, mix in the grated beets and the lemon juice. What a colour boost.
Fill the stew into the vols-au-vent. Enjoy.