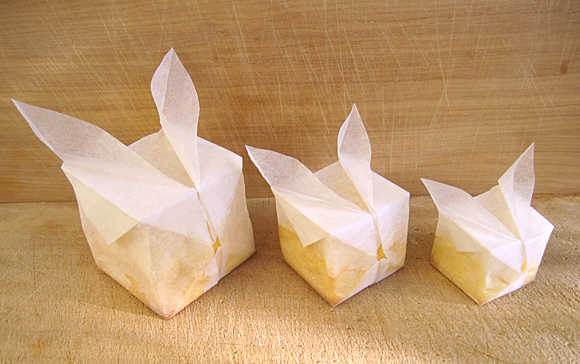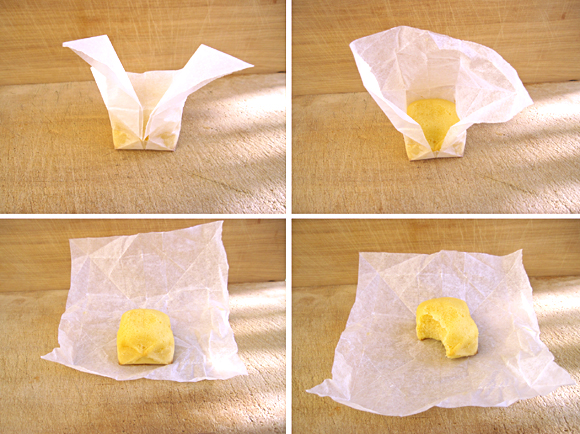 How about baking your muffins, mini cakes or other dessert creations in these parchment bunny cubes? Not only are they substituting the plain old muffin paper cup, but they also serve as a cute and convenient wrapping. You can give them away as a gift, include them in a packed lunch or hide them outside in the garden at Easter for children to find. The bunny cubes are easy to fold and inexpensive. Why not make one right now? I'm sure you have parchment paper and basic muffin ingredients at hand.
You can try the recipe for the fluffy and moist cream cheese muffins provided in this post to fill the bunnies, but I guess other muffin or cake mixtures should work fine as well, as long as they don't expand too much. Since the parchment paper is kind of acting like a seal, you might want to lessen the amount of liquid ingredients.
Let me give you some insight on how the idea of the bunny muffin was born. Not long ago, I wanted to Coinstar fees make a square cake. I didn't have a square cake pan and buying one was not an option after looking at some price tags. Then it came to my mind that I could simply fold a parchment paper box. It's simple, inexpensive, and I can even adjust the size. I skimmed through my origami books (origami: traditional Japanese folk art of paper folding) in search for box folding instructions, and that was when I stumbled upon the bunny cube balloon. The idea to bake muffins in these bunny balloons hit me immediately. Since Easter is approaching, it was perfect.
Oh and by the way, I did bake a square cake in a suitable parchment paper origami box (that even included handles!) but that's another story.
How to make the Paper Bunny Cube
You need square pieces of parchment paper. For the large bunnies, I used 21×21 cm, for medium 16×16 cm and for the small ones 12×12 cm.
I've found the instructions for folding the bunny in the book 親子で遊ぶかんたんおりがみ (oyako de asobu kantan origami) which is aimed at children, so don't nag about it being too difficult :-D
I'm rather bad at explaining origami steps, but luckily I've found this comprehensible diagram at origami-club.com. Check out their other tutorials if you're interested in origami, they're very easy to understand and even accompanied by animations.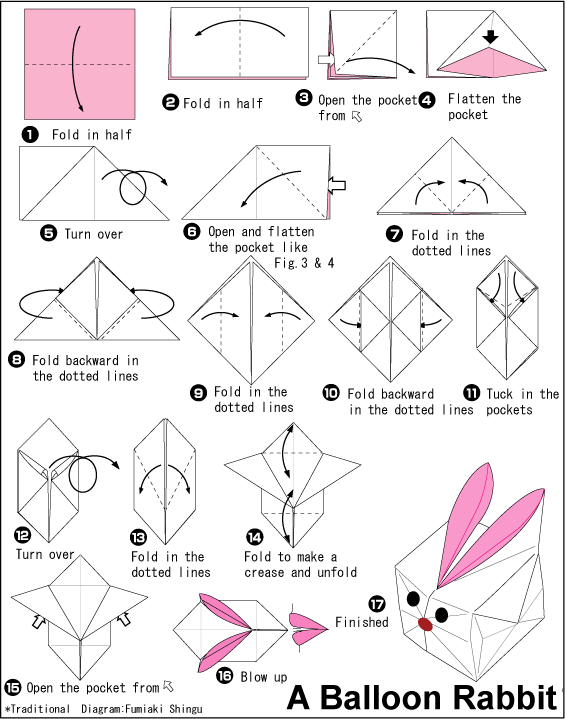 Here's the link to the animation of the bunny balloon folding on origami-club.com. Have a look at it if the diagram alone leaves you puzzled.
Thinking that you later use the bunny to serve food in, I must admit that the part where you have to blow up the balloon by mouth might appear a bit unhygienic. Maybe you can find other measures to inflate it. Or just try to firmly believe that the oven temperature will kill off the bacteria.
How to make Cream Cheese Muffins baked in Bunny Cubes
The recipe for the cream cheese muffins is from Harumi Kurihara's book Harumi's Japanese Cooking. Originally, the muffins are meant to be heated in the microwave. Since I didn't have access to a microwave, I had to adapt the recipe.
Makes 3 L, 3 M and 3 S size bunnies
40g cream cheese
1/2 Tbs white wine
1 Tbs cream
1 Tbs vegetable oil
vanilla essence
2 medium sized eggs
50g sugar
50g flour
1/2 tsp baking powder
Whisk cream cheese and white wine together until creamy  in a bowl that you placed into another bowl filled with hot tap water.

Mix in cream, oil and vanilla essence.

Beat the eggs in a separate bowl and whisk together with the sugar until the mixture thickens.

Mix in flour and baking powder, then add the cream cheese white wine mixture.
I then filled the mixture into an empty condiment container. You can also use a piping bag or an empty plastic ketchup bottle – anything that's squeezable and has a tip should work.

Squeeze the mixture into the bunny cubes until they're a bit less than half full. It's like bottle-feeding the bunny :-). Be careful not to make a mess. Stains on the parchment paper will later become dark and clearly visible.
Bake in the preheated oven at 160°C. Approximately, the small bunnies will take 15, the medium bunnies 20 and the large bunnies 25 minutes.
The cream cheese muffins were fluffy, moist and delicious. Mmmh.

Click here for more Easter food ideas.
Do you know of any other (origami) parchment paper folding techniques that can be used for baking?
46 Responses to "Cream Cheese Muffins Baked & Served in Parchment Bunny Cubes"