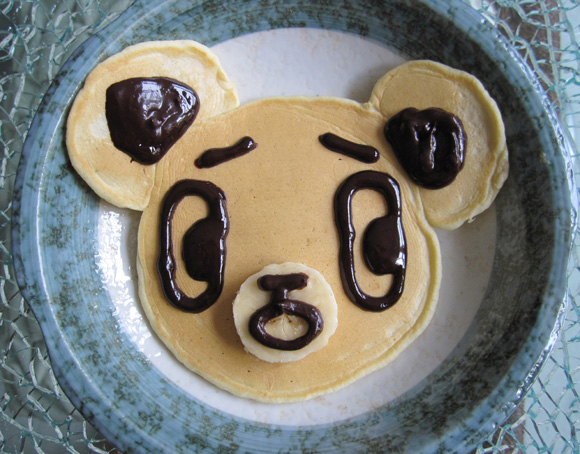 Serve someone this cute pancake bear breakfast for a happy start in the day! It's hardly more time-consuming than a regular pancake. All you have to do is prepare your batter according to your favourite pancake recipe. When pouring the batter into the frying pan, start with a circle for the head and then immediately pour 2 small circles overlapping the first circle a bit for the ears. Decorate it with chocolate syrup and a banana slice after you have cooked both sides. If you don't have chocolate syrup, simply mix cocoa powder with a little milk or water and fill it into a piping bag.
I got the bear-shaped pancake idea from a Japanese drama series called Otomen. It's about a high school boy that seems very manly on the outside but he has girly hobbies like cooking and sewing that he tries to keep secret. The series itself didn't impress me much but I was at least fascinated by the appearance of the pancake bear in episode 2. In the scene, the main character Asuka makes the pancake to cheer up a lonely half-orphan at an all-day care centre. The boy gets overly happy of course.
Using a banana slice as a snout is an idea I got from this phenomenal picture that I found here in the sweets section of キャラ弁倶楽部 (Kyaraben Club). Ah, so cute.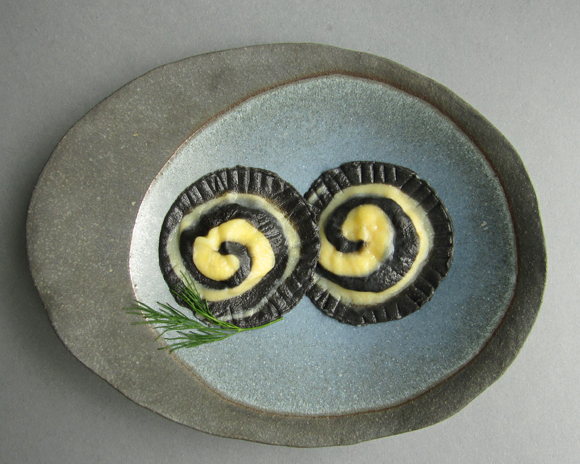 Homemade squid ink spiral ravioli with fish filling! The swirl pattern is an eye-catcher. This could be a neat main dish for a black and white party menu. Don't worry, you can make the pasta without any machine.
You've surely seen spiral cookies before – they are easy to make and look nice. If you can make a spiral pattern with cookie dough, why not try it with pasta dough I thought.  It's just as easy as making the cookie version. The main difference is that the slices should be thinner and you have to make sure that the different dough parts stick well together before cooking.
With the method I show here, you could apply all sorts of cross-section patterns to pasta. An open field for your creativity! Next on my to-do list are checkered pasta and panda pasta :-D
I chose white fish filling for the ravioli because it has a neutral colour that isn't noticeable through the pasta dough and the flavour goes well with squid ink (recipes is at the bottom).
Homemade Spiral Ravioli Recipe (makes 10-12 pieces)
Cooking Soundtrack: Jan Garbarek with Keitgh Jarrett – Spiral Dance
Spiral Squid Ink Pasta
60g (ca. 4 Tbs) all-purpose flour
60g (ca. 4 Tbs) semolina (durum wheat flour). For those who live in the German area: Kauft einfach Spätzli- bzw. Spätzlemehl, das besteht ganz oder zum Teil aus Hartweizendunst.
1 egg, beaten
2 tsp olive oil
4 tsp water
1/2 – 1 tsp squid ink
Mix half the amount of all the ingredients except the squid ink together in bowl with a spatula. Remove from bowl and knead until you get a smooth and soft dough.
Do the same with the other half of the ingredients including the squid ink. Wrap the doughs separately in plastic foil and let them rest for an hour at room temperature.
Place the the doughs one after another between 2 sheets of plastic foil and roll out evenly to a thickness of 5mm. Why plastic wrap and not a floured surface you might ask. Well, we want to preserve the moisture. Stickiness is good in this case!
Brush the surface of one of the doughs generously with water. Place the other dough on top and roll out again until you reach a thickness of 5mm. Wrap and refrigerate for about 30 minutes.
Flatten the 2 short edges.
Brush  a small part of the surface that lies ahead with water and roll by pulling the plastic foil. Use the blunt side of a knife to make the roll firm (like shown in the picture). Repeat this steps  until you reach the end. Smear the edges with your fingers.
Wrap it in plastic foil (looks like a salami!) and put it in the freezer for 30 minutes.
Now the most thrilling step: Slice the dough and do a victory dance if the spirals turned out well.
Roll the slices out thinly on a floured surface.
Put 1 tsp of ravioli filling in the middle of a slice. Damp the brim, place another slice on top and press on the brim with a fork.
Simmer in salted water for 5 minutes.
Serve with butter and dill. Yeah.
Pikeperch Fish Filling for Ravioli from Pauli – Rezeptbuch der Küche
120g pikeperch filet, cut into small cubes
100g cream, 35%
12g pasteurised egg white (I left that one out)
fresh dill
salt, pepper
Blend fish, salt, egg white and half of the cream together in a mixer.
Transfer the mixture to a chromium steel bowl and stack on top of another bowl filled with ice water. Stir.
Sieve the mixture and cool again.
Lightly whip the rest of the cream and add it together with dill, salt and pepper to the mixture.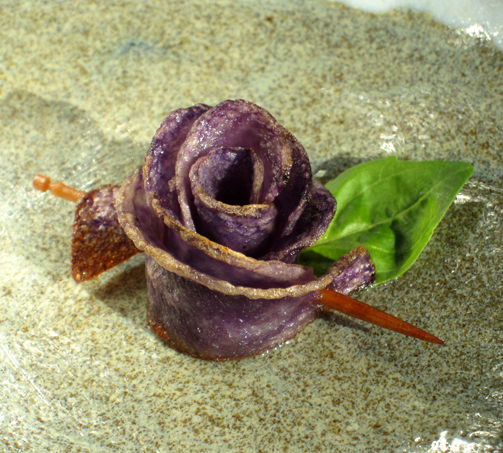 Looking for an eye-catching party snack?  Try this recipe for crunchy deep-fried potato & beet chips in the shape of a rose.
Roses again today! If you've ever made beet chips, deep-fried or baked in the oven, you will have noticed that they look a little bit like dried roses. Consequentially, the idea of reignofgaming.net making beet rose chips isn't far away. And since purple potatoes have such a nice colour they can't be missed out as well. I've researched a bit and found out that the deep-fried rose thing has been done before using regular potatoes. They look very nice. Any suggestions for other vegetables you could use?
Deep-Fried Purple Potato & Red Beet Roses
Cooking Soundtrack: Nick Cave & Kylie Minogue – Where The Wild Roses Grow
red beets, raw
purple potatoes, raw
canola oil
salt
Peel the beets and the potatoes.
Slice the beets and potatoes thinly using a mandolin slicer. It worked best for me when I cut the beets into 0.5 mm and the potatoes into 1.3 mm slices.
Spread the slices on a kitchen paper and add another layer of paper on top. This will draw out the moisture of the vegetables.
When the slices have lost enough water so you can easily bend them, arrange 5-7 pieces like shown in the picture.
Roll it!
Fixate with 2 toothpicks.
Cut in the middle.
Bend the petals a bit.
Deep-fry in canola oil for 30-90 seconds at about 170°C (340° F).
Add salt and you're done.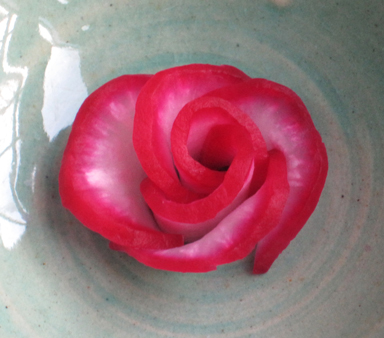 If you are looking for easy decoration ideas for your salads or bento lunches than this tutorial on how to make a radish rose might interest you.
A few days ago, I bought a rose flavoured lassi (South Asian yogurt drink). It had a picture of white roses with pinkish petal edges on it. I wanted to recreate that look so I came up with with the idea of informz.net infusing white radish with red beet juice. Unfortunately, the roses Moneygram honorarios turned out to look a lot different from the roses on the lassi package! Next time, I will shorten the infusion time and cut the slices thinner.
White Radish Rose Decoration
Cooking Soundtrack: Francoise Hardy – Mon Amie La Rose
1 piece of raw white radish, peeled
1 Tbs salt
ca. 1 cup red beet juice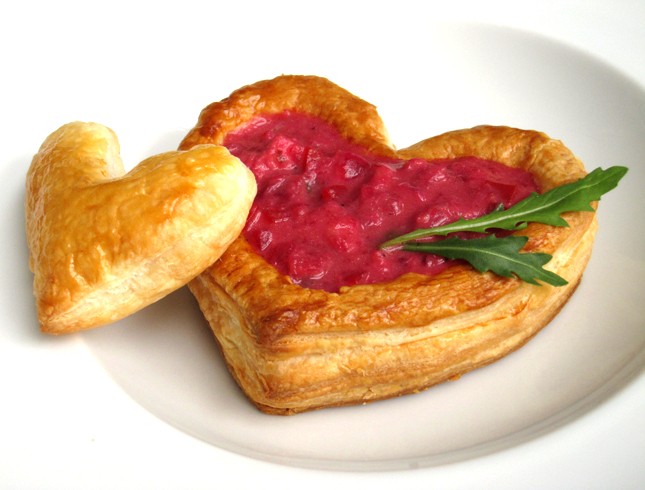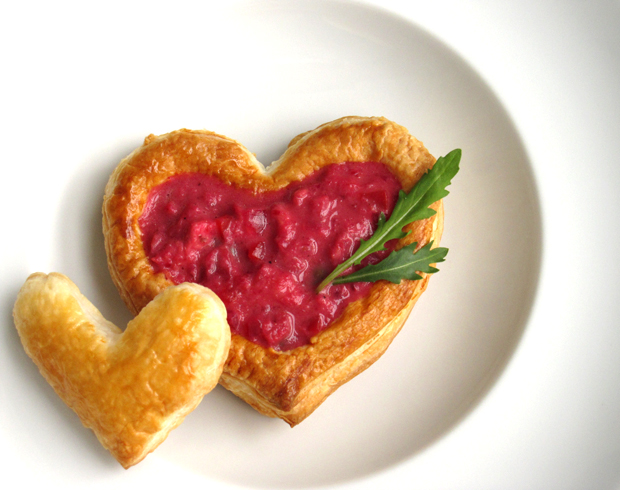 A crunchy heart-shaped puff pastry shell filled with a savoury chicken & beet stew that catches your eye through its vibrant colour – Your loved ones' heart will surely skip a beet when you serve them this flashy main dish on Valentine's Day. Click here for more Valentine's Day recipes.
Cooking Soundtrack: Dan Le Sac vs. Scroobius Pip – The Beat That My Heart Skipped
Heart-shaped vols-au-vent (makes 4 hearts)
chilled puff pastry dough, ca. 30×40cm rectangle, 3mm thick (I used store-bought puff pastry, but if you are truly in love I suggest making it by yourself)
1 egg, beaten
Preheat oven to 200°C. Print and cut out this heart outline if you don't have suitable cookie cutters.
Lay the heart outline on the dough and cut along the template. You'll need 4 big hearts for the bottom, 8 heart rings for the sides and 4 small hearts for the caps.
Put the bottom hearts on a baking tray lined out with parchment. Prick them with a fork and brush with the beaten egg.
Place one heart ring on the bottom heart, brush with egg, then place another ring on top and brush again with egg. Brush the heart caps as well.
Bake the vols-au-vent for 15 minutes. The heart caps should be taken out 5 minutes earlier.
Chicken & Beet Stew (serves 4)
Note: One portion is more than what is depicted in the pictures.
1 garlic clove
1 small onion
1/2 carrot
1 chicken breast
salt & pepper
1Tbs flour
2 Tbs white wine
1 cup chicken stock
1/3 cups frozen sweet peas
1/3-2/3 cup cream
a pinch of tarragon
1 tsp cornstarch dissolved in water
1 tsp lemon juice
3 Tbs grated beet
Chop garlic, onion and carrot into small bits.
Cut the chicken into small cubes. Mix with salt, pepper and flour.
Heat the butter in a pan and sauté garlic, onion and carrot for one minute.
Add chicken and cook until it's done.
Add wine and let it evaporate a bit.
Pour in the chicken stock and the sweet peas and let it simmer for a while.
Add cream,tarragon and cornstarch.
At the very last, mix in the grated beets and the lemon juice. What a colour boost.
Fill the stew into the vols-au-vent. Enjoy.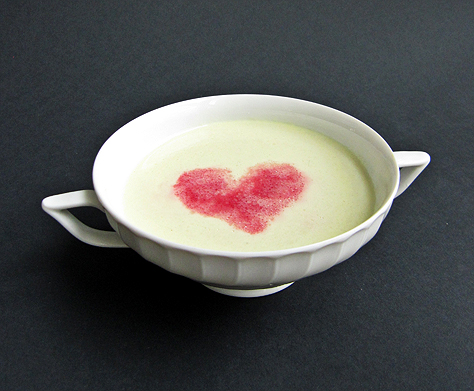 This heart-warming cauliflower coconut soup has a mild flavour and is an ideal starter for a Valentine's Day menu. Click here for more Valentine's Day recipes.
Heart-warming Cauliflower Coconut Soup (serves 2)

1 small onion
1 Tbs butter
200g cauliflower (about 4 florets)
a pinch of sugar
1/3 cup white wine
1 cup chicken or vegetable stock
2/3 cup coconut milk
salt & pepper
1 tsp canola oil and 1 tsp red beet juice for the heart
Chop onion into small cubes and sauté in the butter for about 5 min. on medium heat.
Cut the cauliflower into small bits and add it to the onions. Add the sugar and stir-fry for a few minutes.
Add the white wine and let it boil down.
Add the stock and boil for about ten minutes until the cauliflower bits are tender.
Add coconut milk, salt and pepper an briefly heat it up.
Blend and sift the soup.
For the red heart, mix canola oil with beet juice and carefully place one teaspoon per bowl on top of the soup surface. Shape the dot into a heart with the help of a toothpick.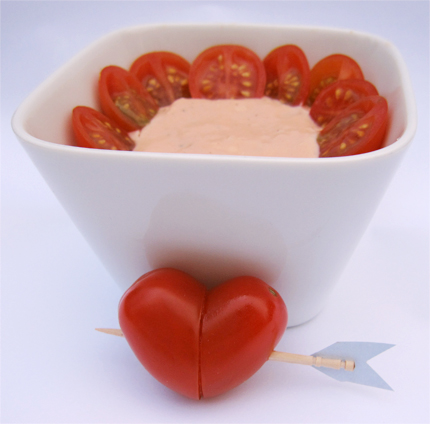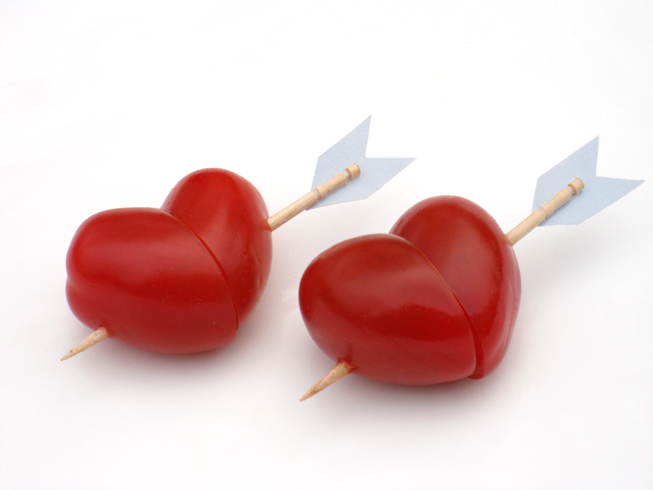 Struck by Cupids Arrow Cherry Tomatoes with Cocktail Sauce is a quick and easy snack or starter for your valentine's day celebration. Only 2 cuts are required to turn the cherry tomatoes' shape into a 3-dimensional heart – that's how easy it is. Click here for more Valentine's Day recipes.
I came up with this idea after I had watched a segment of a Japanese news program about Mrs. Soejima, a grocery store worker and wiener artist. She shows customers how to transform wieners into animals and flowers. (EDIT: I'm sorry, the video has been deleted. You can click here though to see some amazing screenshots.) Awesome. But the piece of art that truly caught my eye was the sausage heart you can see shortly at the end of the video. Such a simple yet brilliant idea.
I wondered about which other food items this technique could be applied to, so I brainstormed for oval-shaped edibles (since this is an obvious requirement) and came up with cherry tomatoes among other things. Cherry tomatoes seem to be perfect: they have a bright red colour, are bite-sized and there are some oval shaped varieties. Unfortunately, it's very hard to get your hands on the ones that are long enough to do the heart cut shtfplan.com like shown in the example with the wiener. But don't despair yet! Using simply 2 cherry tomatoes instead of 1 per heart will do the trick.
Struck by Cupid's Arrow Cherry Tomatoes for Valentine's Day (20 pieces)
Cooking Soundtrack: Sam Cooke – Cupid
40 oval cherry tomatoes
20 toothpicks that look like arrows
Cocktail Sauce Dip
85g mayonnaise
40g ketchup
1 Tbs yogurt
1 tsp grated  horseradish
1 Tbs lime juice
1 tsp rum
salt, pepper & paprika
Mix all ingredients and garnish with the cherry tomato leftovers. Voilà!
If you think these are real sushi, look closer. They are actually made up of grapefruit slices, white chocolate, Kellogg's Rice Krispies and green vanilla cream. Crispy-chocolatey at the bottom, creamy in the middle and fresh'n' juicy on top.
You may already know that there are countless variations of fruit and candy sushi – google them and you will be overwhelmed. If you want to make realistic looking fake fruit sushi in an effortless way, citrus fruits are one of the best options. If you cut them in a certain manner, their flesh bears a striking resemblance to the texture of fish used for nigiri sushi. Most fruit sushi recipes I've encountered so far call for sushi rice or sticky mochi rice, but grapefruit on top of cooked rice just feels kind of wrong so I decided to go with toasted rice cereal.
Fake Fruit Sushi (makes about 30 pieces)
Cooking Soundtrack: Yoshida Brothers – Madrugada
200g white chocolate
40g Kellogg's Rice Krispies (you can substitute the Rice Krispies with puffed rice, but it won't turn out as, well, crispy.)
about 6  red or pink grapefruits and blood or half-blood oranges
1/2 package of instant vanilla cream powder
half the amount of milk/water the instant cream calls for
optional: green food colouring or matcha green tea powder
Chop the chocolate coarsely .
Melt the chocolate slowly over a hot water bath.
Transfer the melted chocolate to a separate bowl and mix it with the Rice Krispies using a rubber spatula.
Fill the mixture into an ice cube tray. Be careful not to oversize the pieces. You should be able to fill about 30 ice cube holes halfway. Let the fake rice base cool down.
Cut away the grapefruit and orange peel with a sharp knife. While you do this, keep 2 things in mind: Avoid cutting sharp edges into the fruit and leave some of the white part on it. The white pattern looks like fish fat and accentuates the texture.
If you are right-handed, hold the fruit in your left hand and cut diagonally starting from the top right going down to the left. The white stripes should not be parallel or perpendicular to the cut edge. Rotate the fruit and repeat. You should get about 4-10 pieces per fruit.
Prepare the the instant vanilla cream following the instructions on the package, but use only half the amount of liquid it calls for in order to get a thick cream. For example, I added 125ml instead of 250ml milk. If you want to, you can add food colouring or matcha green tea powder to get the fake wasabi look.
Press the fake wasabi cream though a piping bag onto the fake rice base. Picture note: If this was real sushi, the amount of wasabi would be ridiculous!
Lay the fruit slices quickly on a piece of kitchen paper so they won't be too watery. Place them on top of the fake rice base. The fake wasabi acts as an adhesive.
Serve chilled and, for easier deception, under dim light conditions.
Mashed green lentils look like soil – so let's make the best of it! That is to say, a fake flower pot.
Lentil Salad & Edible Flower Garnishment (2 servings)
100g green lentils
200ml cold water
1 small onion, chopped
1 garlic clove, mashed
2 Tbs balsamic vinegar
2 Tbs olive oil
1 tsp soy sauce
pepper
edible blossoms (for example  daisies), chives and basil
optional: bacon, sweet corn, carrots, celery etc.
Rinse and drain the lentils.
Add the lentils to a cooking pot and pour in the water. Do not add any salt. Bring to a boil and let it simmer for about 25 minutes. It is okay if the lentils are slightly overcooked.
In a pan, sauté the onion and the garlic in 1 Tbs of the olive oil until brown.
Add the lentils to the pan and stir for a few minutes.
Transfer everything into a bowl and mash it a bit with a fork. While still warm, mix in balsamic vinegar, remaining olive oil, soy sauce and pepper.
When the salad has cooled down, fill it into the dish you would like to serve. Since this is a very basic lentil salad, I suggest adding some other ingredients such as bacon and vegetables. You can "hide" them at the bottom of the serving dish and the cover them with the basic lentil mixture.
Arrange blossoms, chives and basil. You might have to use a tooth pick. Stick it into the lentil salad. Enjoy!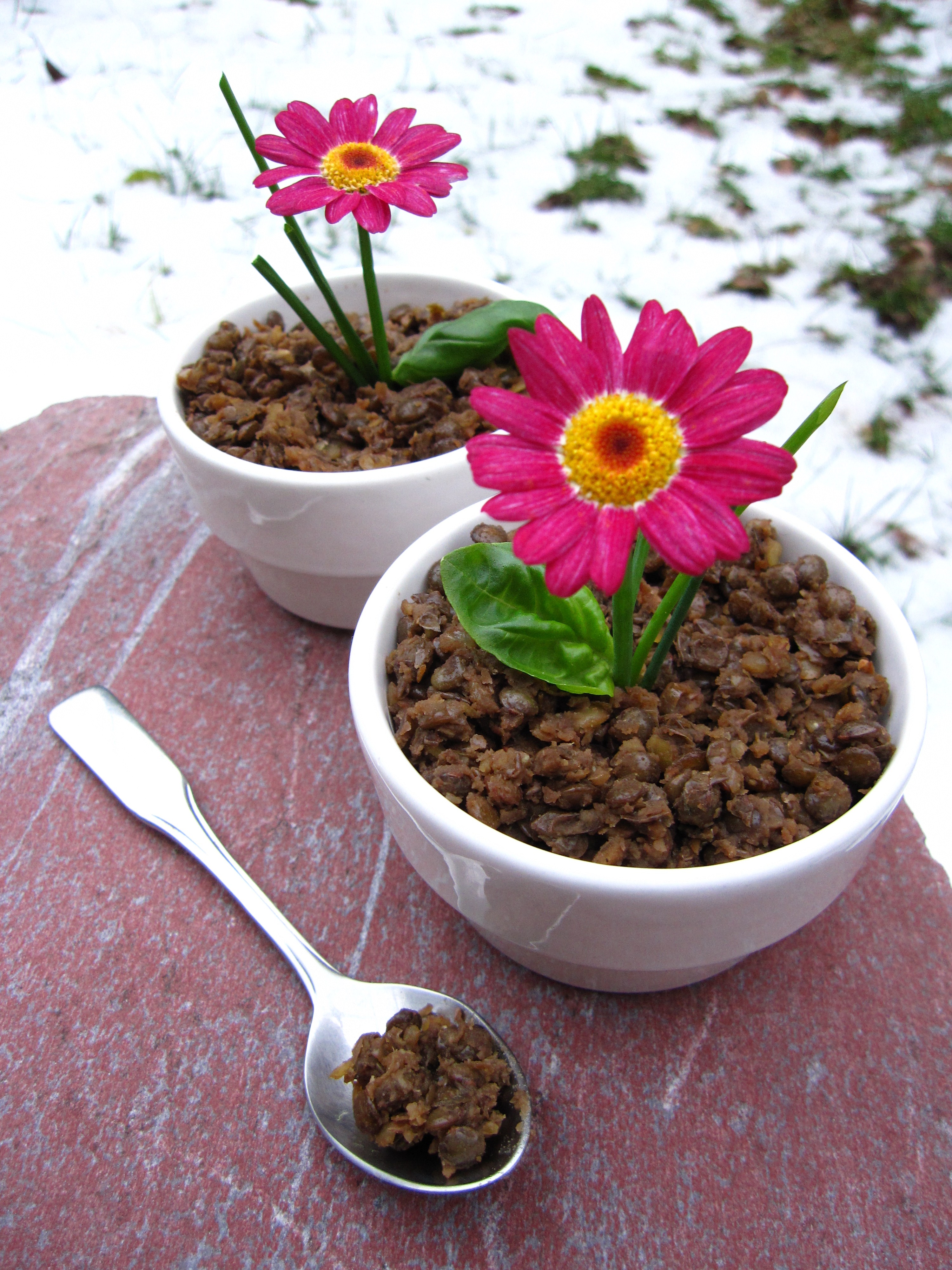 Mont Blanc aux marrons, named after Europe's highest mountain, is a dessert made of pureed chestnuts. Due to its noodle-like appearance, it is also known as vermicelles. Traditionally, chestnuts are used as the  main ingredient for Mont Blanc, but pumpkin is a great Moneygram fees substitute. The essential point is to choose the right type of pumpkin. For the following recipe, stay away from watery pumpkins with a bland taste. Choose a pumpkin with sweet flesh that is rather starchy and thus has a chestnut-like flavour. Examples are Miyako, Ambercup, Baby Delica, Buttercup, Ebisu, Honey Delight, Mikoshi and countless more.
Pumpkin Mont Blanc  (4 servings)

500g piece of pumpkin, unpeeled but seeded
2-4 Tbs icing sugar
pinch of salt
1/2 tsp cinnamon
50g cream cheese
whipped cream and/or meringues
Preheat oven to 190°C.
Place the pumpkin piece cut side up on a baking tray.  Roast for 50-60 minutes in the oven until tender.
Remove from oven and cut away the crust on top.
With a spoon, scrape out the pumpkin flesh, leaving the skin.
Mash the pumpkin with a potato masher and then press it through a sieve.
Add icing sugar, salt, cinnamon and cream cheese. Vary the sugar amount you add depending on your liking and the natural sweetness of the pumpkin.
Wrap the mixture and put it in the refrigerator.
Shortly before serving, press the mixture through a piping tube onto the serving dish. Commonly, piping tubes with a "spaghetti-hole" tip are used.
Serve with whipped cream, meringues and pumpkin seed brittle.
Pumpkin Seed Brittle
70g sugar
25 g pumpkin seeds
Coarsely chop the pumpkin seeds.
Heat the sugar in a pan until it dissolves and the colour turns golden.
Remove the pan from the stove and stir in the pumpkin seeds.
Spread the mixture immediately on baking parchment and let it cool down.
Break the brittle with your hands into small pieces. Voilà.