Posts Tagged 'cherry tomato'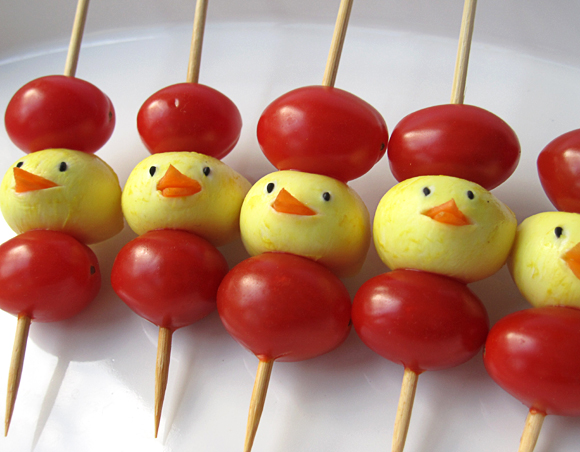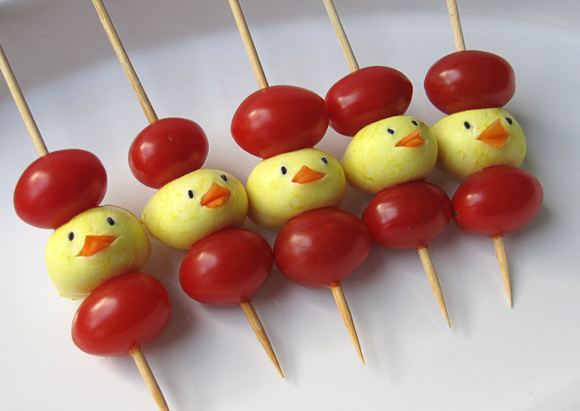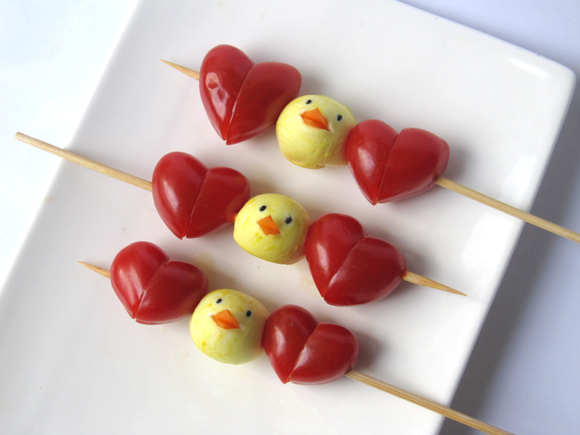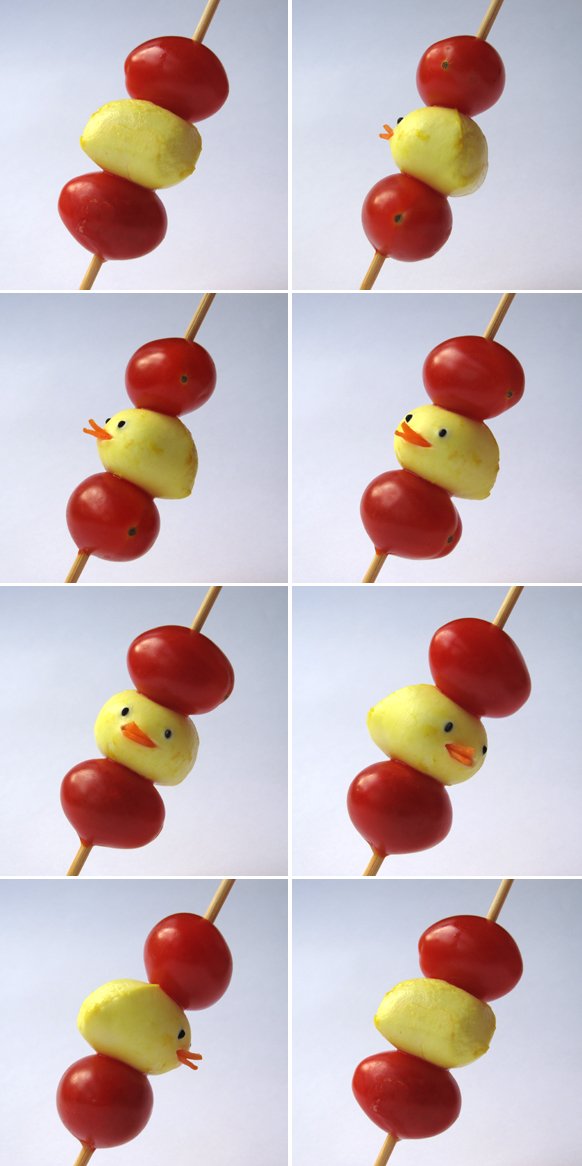 A neat snack for your spring theme party or Easter celebration: mozzarella chicks marinated in curry and cherry tomatoes on a stick. Easy to make and it will sure impress kids or grown-up lovers of cute food. You can serve these skewers as a party snack, garnish salads with it, take them to a picnic or put them in a lunchbox.
I prepared these skewers before Easter but didn't find time to post it until now, sorry :-P
There's this gorgeous food blog called L'exquisit where I've seen these neat Italian lollies made with mini-mozzarella and cherry tomatoes. I really like the presentation and wanted to make something similar. In the end, it turned out to look quite different but oh well, the ingredients are still alike.
How to make Mozzarella Chicks & Cherry Tomato Skewers
mini-mozzarella (if you can't get your hands on this, you can probably replace it by scooping out balls from other cheeses like gouda, etc. Cube-shaped pieces might be nice as well. Or smash and mix feta with cream cheese to form little balls.)
curry powder
carrot
black sesame
cherry tomatoes (must be oval-shaped if you want to make hearts)
Marinate the mozzarella in a 1:3 curry-water mixture for about an hour, then rinse gently with cold water. Pierce mozzarella and cherry tomatoes with a skewer.

Cut out a triangle from a carrot like shown in the picture and then slice it thinly with a knife or mandolin slicer.

Slit the mozzarella a little and place 2 carrot triangles inside.

Pierce 2 holes with a toothpick and stick in 2 black sesame seed.

For making heart-shaped cherry tomatoes, refer to this post: http://eyecandy.nanakaze.net/?p=128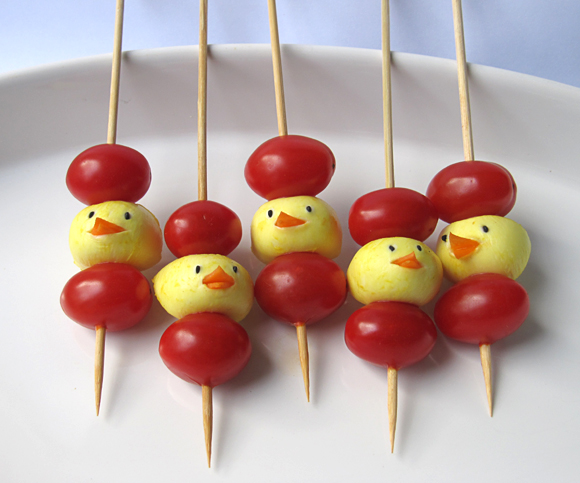 I suggest serving the skewers with an olive oil-based dip. Any suggestions?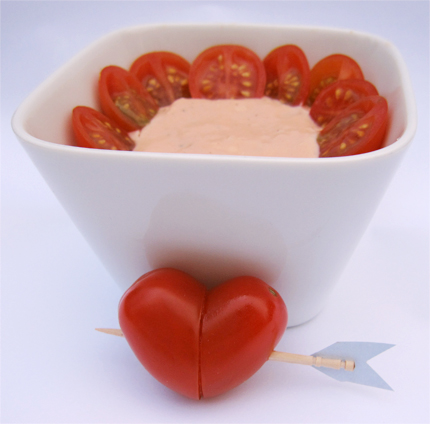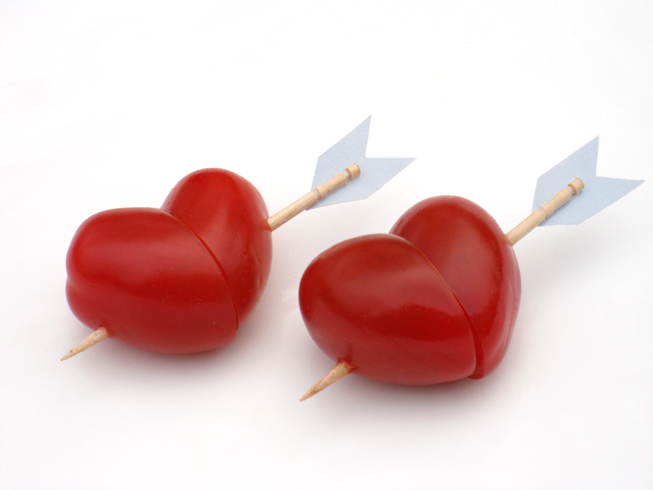 Struck by Cupids Arrow Cherry Tomatoes with Cocktail Sauce is a quick and easy snack or starter for your valentine's day celebration. Only 2 cuts are required to turn the cherry tomatoes' shape into a 3-dimensional heart – that's how easy it is. Click here for more Valentine's Day recipes.
I came up with this idea after I had watched a segment of a Japanese news program about Mrs. Soejima, a grocery store worker and wiener artist. She shows customers how to transform wieners into animals and flowers. (EDIT: I'm sorry, the video has been deleted. You can click here though to see some amazing screenshots.) Awesome. But the piece of art that truly caught my eye was the sausage heart you can see shortly at the end of the video. Such a simple yet brilliant idea.
I wondered about which other food items this technique could be applied to, so I brainstormed for oval-shaped edibles (since this is an obvious requirement) and came up with cherry tomatoes among other things. Cherry tomatoes seem to be perfect: they have a bright red colour, are bite-sized and there are some oval shaped varieties. Unfortunately, it's very hard to get your hands on the ones that are long enough to do the heart cut shtfplan.com like shown in the example with the wiener. But don't despair yet! Using simply 2 cherry tomatoes instead of 1 per heart will do the trick.
Struck by Cupid's Arrow Cherry Tomatoes for Valentine's Day (20 pieces)
Cooking Soundtrack: Sam Cooke – Cupid
40 oval cherry tomatoes
20 toothpicks that look like arrows
Cocktail Sauce Dip
85g mayonnaise
40g ketchup
1 Tbs yogurt
1 tsp grated  horseradish
1 Tbs lime juice
1 tsp rum
salt, pepper & paprika
Mix all ingredients and garnish with the cherry tomato leftovers. Voilà!