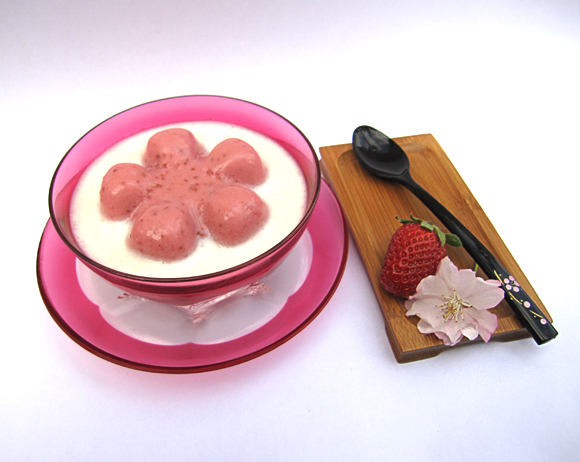 Do you have empty PET bottles at home? Don't discard them! Instead, use their bottom parts as a mold for pretty gelatin or agar agar based desserts: the shape looks like a flower!
Since spring is blossoming at the moment, I suggest trying this easy recipe for delicious d strawberry panna cotta. Panna cotta is a popular Northern Italian sweet that literally translates to "cooked cream". mycentraljersey.com It's served chilled and is therefore a perfect dessert for warmer seasons. The classic flavouring is cream and vanilla, but in this rendition I opted for coconut milk and strawberry instead.
Recipe for Strawberry Coconut Panna Cotta in a PET Bottle Mold (serves 6)
6 empty 500ml PET bottles with a flower shaped bottom, for example Schweppes
250ml coconut milk (Not to be confused with coconut water! Can be substituted with cream and vanilla essence to get a more classic panna cotta.)
4 Tbs sugar
9g sheet gelatin = 5 sheets
1 cup finely pureed strawberries, sieved
optional: milk
First, prepare the molds. Cut away the bottom part of the bottles and wash them thoroughly.

Heat coconut milk and sugar in a pan and stir.

Meanwhile, soak the gelatin sheets in a bowl with cold water for 3-5 minutes.

When the sugar has dissolved, turn off the stove and add the drained gelatin. Stir until it melts down.

Add the mixture to the pureed strawberries and whisk together until it's well incorporated.

Pour the liquid  into the prepared PET bottle molds. Cover the molds and let the panna cotta set in the refrigerator overnight.

To unmold, loosen the edges with a knife and then dip the mold in a bowl with warm water for a few seconds. Be careful not to dip in for too long, the panna cotta melts easily.

Turn the mold over and place it on the serving plate. Shake gently until the panna cotta releases.

Panna cotta is commonly served with fruit coulis, but since this version is already quite sweet in itself I decided to add plain cold milk. It complements the flavour and acts as a nice colour contrast.
Buon appetito!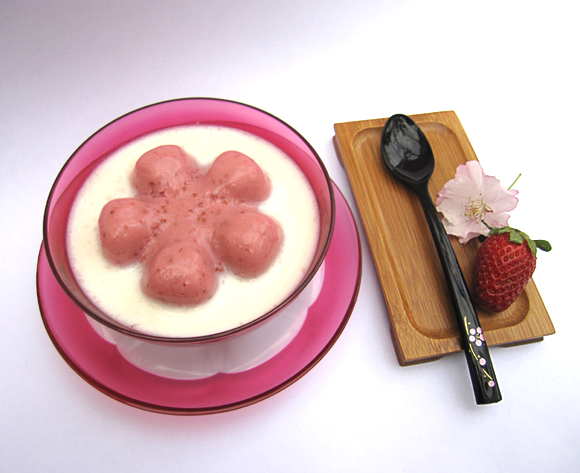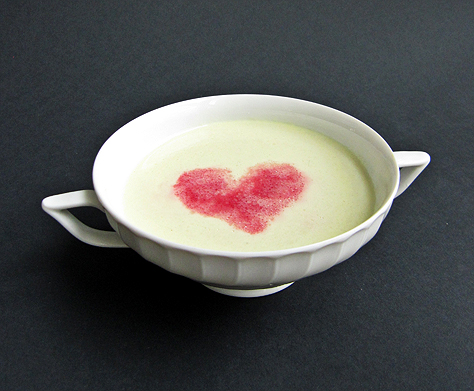 This heart-warming cauliflower coconut soup has a mild flavour and is an ideal starter for a Valentine's Day menu. Click here for more Valentine's Day recipes.
Heart-warming Cauliflower Coconut Soup (serves 2)

1 small onion
1 Tbs butter
200g cauliflower (about 4 florets)
a pinch of sugar
1/3 cup white wine
1 cup chicken or vegetable stock
2/3 cup coconut milk
salt & pepper
1 tsp canola oil and 1 tsp red beet juice for the heart
Chop onion into small cubes and sauté in the butter for about 5 min. on medium heat.
Cut the cauliflower into small bits and add it to the onions. Add the sugar and stir-fry for a few minutes.
Add the white wine and let it boil down.
Add the stock and boil for about ten minutes until the cauliflower bits are tender.
Add coconut milk, salt and pepper an briefly heat it up.
Blend and sift the soup.
For the red heart, mix canola oil with beet juice and carefully place one teaspoon per bowl on top of the soup surface. Shape the dot into a heart with the help of a toothpick.