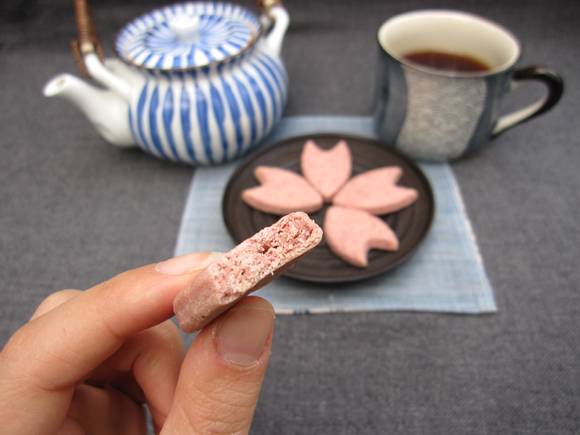 By now we have certainly reached the point where we have to bid farewell to the cherry blossom season. But even though we can't gawk at the pretty trees blooming in pink anymore, we can still bake cherry blossom cookies! You won't even need to buy a new cookie cutter. A regular circle one works just as fine after a little tampering.
These cookies owe their bright pink colour and intense strawberry aroma to a special natural ingredient: freeze-dried red berries! You might remember my instructions for making delicious pink berry chocolate with this ingredient from this post. Your local supermarket may sell freeze-dried berries (such as Coop in Switzerland), otherwise try looking for them in specialty stores or simply buy a box of cereals that contain freeze-dried berries and pick them out by hand :-D
I suggest serving the cherry blossom cookies with a cup of hot vanilla-scented black tea, for example Twinings' Vanilla Black Tea. Enjoy!
Recipe for Pink Cherry Blossom Cookies with Strawberry Yoghurt Flavour
(makes 2 baking trays full of cookies)
Based on this recipe for Coffe Glazed Yoghurt Cookies
125g butter, room temperature
100g sugar
1 egg
4 Tbs strawberry yoghurt
about 30g whole freeze-dried berries or 20g freeze-dried berry powder (I used a mixture of strawberry, raspberry and red currant sold at Coop)
300g all-purpose flour
25g cornstarch
1/4 tsp baking powder
1/2 tsp salt
a round cookie cutter squished to an almond shape
Preheat oven to 150°C.
First, beat butter and sugar. Then add the egg and yoghurt and beat well.

If you are using whole freeze-dried berries, grind them and sieve the powder to remove the seeds.

Combine freeze-dried berry powder, flour, cornstarch, baking powder and salt and sift everything into the butter mixture. Knead well. At this point you're supposed to notice a fruity fragrance. Divide the dough in tw0 and refrigerate for about an hour.

Roll the dough to a thickness of 0.5cm.

Cut out cherry blossom petals with your cookie cutter by overlapping the pattern like shown in the pictures.

Bake for 20-25 minutes.

Voilà, pink cherry blossom cookies! Let them cool down before serving.
Have a nice tea party.