In this tutorial, you can learn how to make natural blue and purple food colouring that can be used to dye savoury dishes. It's quite simple – all the ingredients you need are red cabbage, vinegar and baking soda. Red cabbage is a vegetable with an interesting property: it serves as an ph indicator. Wikipedia quote: "Red Cabbage juice is pink in acidic solutions, purple in solutions of ~pH7, and turns blue in basic solutions, and green in very basic solutions." Amazing, isn't it? We can obviously use that to our advantage.
Oh and you can learn how to make use of the homemade colouring. There are instructions for making a blue radish rose at the bottom.
Homemade Blue & Purple Food Colouring
Cooking Soundtrack: Elvis Presley – Blue Suede Shoes
red cabbage
acidic ingredient, for example regular vinegar
alkaline ingredient, for example baking soda
Wash the cabbage and cut out the stem.
Chop into small pieces.
Put it into a cooking pot and add water until the cabbage is covered.
Simmer for 10 minutes, then drain.
You now have a purple solution that still has cabbage aroma to it. Add vinegar for a more pinkish purple and baking soda for blue. Start with small amounts and gradually increase until you reach the desired colour. Keep in mind that vinegar and baking soda affect the taste of the food colouring, so don't overdose it. Plus I guess eating too much baking soda may bear a health risk.
You can substitute vinegar with other acidic solutions, for example white wine or lemon juice. Baking soda can be substituted with spinach juice, green tea and other alkaline food.
You can dye a variety of food with this colouring. White food items are most prone to absorb the colour. Examples: cauliflower, couscous, pasta, egg whites,  mashed potatoes, steamed bread, white radish etc.
Be aware of pH values when mixing your food colouring with other ingredients. It's impossible to dye a vinegar based salad dressing blue for example. Making blue yogurt probably requires an extra pinch of baking soda, and so on.
The colour of red cabbage juice in itself isn't susceptible to heating but telling from my experience that isn't the case when you add baking soda. Heating the food colouring AFTER you've added baking soda turns the mixture greenish. So I suggest you either add the baking soda after the cooking process of the dish has finished, or, if that's not possible, like in the case of steamed bread,  you simply reduce the amount added and experiment a bit.
How to make a Blue Radish Rose
white radish
salt
blue food colouring
sugar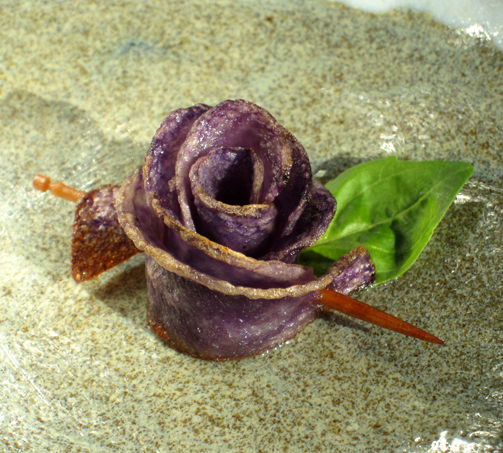 Looking for an eye-catching party snack?  Try this recipe for crunchy deep-fried potato & beet chips in the shape of a rose.
Roses again today! If you've ever made beet chips, deep-fried or baked in the oven, you will have noticed that they look a little bit like dried roses. Consequentially, the idea of reignofgaming.net making beet rose chips isn't far away. And since purple potatoes have such a nice colour they can't be missed out as well. I've researched a bit and found out that the deep-fried rose thing has been done before using regular potatoes. They look very nice. Any suggestions for other vegetables you could use?
Deep-Fried Purple Potato & Red Beet Roses
Cooking Soundtrack: Nick Cave & Kylie Minogue – Where The Wild Roses Grow
red beets, raw
purple potatoes, raw
canola oil
salt
Peel the beets and the potatoes.
Slice the beets and potatoes thinly using a mandolin slicer. It worked best for me when I cut the beets into 0.5 mm and the potatoes into 1.3 mm slices.
Spread the slices on a kitchen paper and add another layer of paper on top. This will draw out the moisture of the vegetables.
When the slices have lost enough water so you can easily bend them, arrange 5-7 pieces like shown in the picture.
Roll it!
Fixate with 2 toothpicks.
Cut in the middle.
Bend the petals a bit.
Deep-fry in canola oil for 30-90 seconds at about 170°C (340° F).
Add salt and you're done.