Posts Tagged 'Valentine's Day'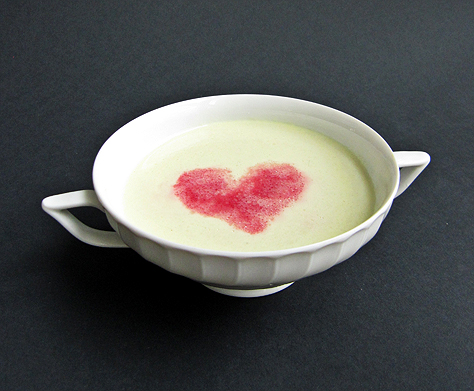 This heart-warming cauliflower coconut soup has a mild flavour and is an ideal starter for a Valentine's Day menu. Click here for more Valentine's Day recipes.
Heart-warming Cauliflower Coconut Soup (serves 2)

1 small onion
1 Tbs butter
200g cauliflower (about 4 florets)
a pinch of sugar
1/3 cup white wine
1 cup chicken or vegetable stock
2/3 cup coconut milk
salt & pepper
1 tsp canola oil and 1 tsp red beet juice for the heart
Chop onion into small cubes and sauté in the butter for about 5 min. on medium heat.
Cut the cauliflower into small bits and add it to the onions. Add the sugar and stir-fry for a few minutes.
Add the white wine and let it boil down.
Add the stock and boil for about ten minutes until the cauliflower bits are tender.
Add coconut milk, salt and pepper an briefly heat it up.
Blend and sift the soup.
For the red heart, mix canola oil with beet juice and carefully place one teaspoon per bowl on top of the soup surface. Shape the dot into a heart with the help of a toothpick.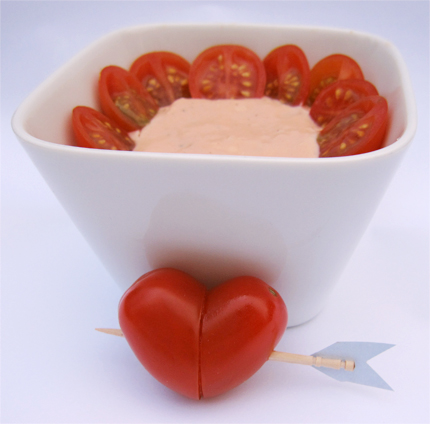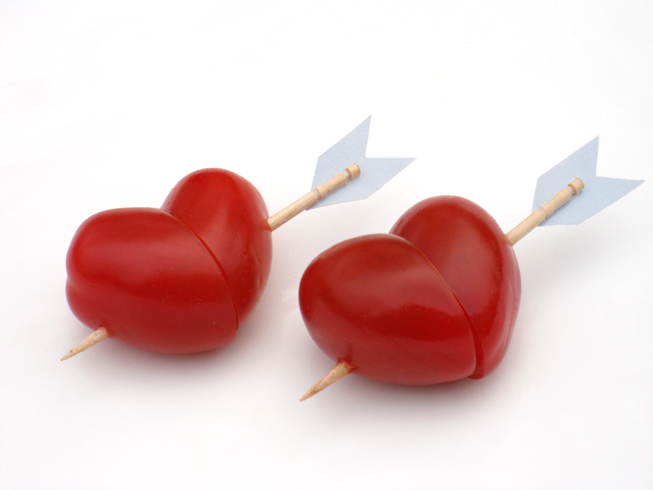 Struck by Cupids Arrow Cherry Tomatoes with Cocktail Sauce is a quick and easy snack or starter for your valentine's day celebration. Only 2 cuts are required to turn the cherry tomatoes' shape into a 3-dimensional heart – that's how easy it is. Click here for more Valentine's Day recipes.
I came up with this idea after I had watched a segment of a Japanese news program about Mrs. Soejima, a grocery store worker and wiener artist. She shows customers how to transform wieners into animals and flowers. (EDIT: I'm sorry, the video has been deleted. You can click here though to see some amazing screenshots.) Awesome. But the piece of art that truly caught my eye was the sausage heart you can see shortly at the end of the video. Such a simple yet brilliant idea.
I wondered about which other food items this technique could be applied to, so I brainstormed for oval-shaped edibles (since this is an obvious requirement) and came up with cherry tomatoes among other things. Cherry tomatoes seem to be perfect: they have a bright red colour, are bite-sized and there are some oval shaped varieties. Unfortunately, it's very hard to get your hands on the ones that are long enough to do the heart cut shtfplan.com like shown in the example with the wiener. But don't despair yet! Using simply 2 cherry tomatoes instead of 1 per heart will do the trick.
Struck by Cupid's Arrow Cherry Tomatoes for Valentine's Day (20 pieces)
Cooking Soundtrack: Sam Cooke – Cupid
40 oval cherry tomatoes
20 toothpicks that look like arrows
Cocktail Sauce Dip
85g mayonnaise
40g ketchup
1 Tbs yogurt
1 tsp grated  horseradish
1 Tbs lime juice
1 tsp rum
salt, pepper & paprika
Mix all ingredients and garnish with the cherry tomato leftovers. Voilà!