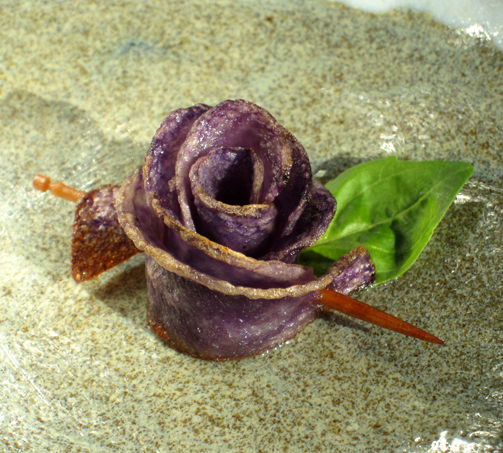 Looking for an eye-catching party snack?  Try this recipe for crunchy deep-fried potato & beet chips in the shape of a rose.
Roses again today! If you've ever made beet chips, deep-fried or baked in the oven, you will have noticed that they look a little bit like dried roses. Consequentially, the idea of reignofgaming.net making beet rose chips isn't far away. And since purple potatoes have such a nice colour they can't be missed out as well. I've researched a bit and found out that the deep-fried rose thing has been done before using regular potatoes. They look very nice. Any suggestions for other vegetables you could use?
Deep-Fried Purple Potato & Red Beet Roses
Cooking Soundtrack: Nick Cave & Kylie Minogue – Where The Wild Roses Grow
red beets, raw
purple potatoes, raw
canola oil
salt
Peel the beets and the potatoes.
Slice the beets and potatoes thinly using a mandolin slicer. It worked best for me when I cut the beets into 0.5 mm and the potatoes into 1.3 mm slices.
Spread the slices on a kitchen paper and add another layer of paper on top. This will draw out the moisture of the vegetables.
When the slices have lost enough water so you can easily bend them, arrange 5-7 pieces like shown in the picture.
Roll it!
Fixate with 2 toothpicks.
Cut in the middle.
Bend the petals a bit.
Deep-fry in canola oil for 30-90 seconds at about 170°C (340° F).
Add salt and you're done.
7 Responses to "Deep-Fried Purple Potato & Red Beet Roses"